Lectern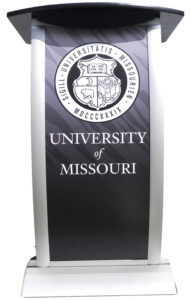 This modern University of Missouri lectern adds polish to events of all sizes.
Rental Cost: $35.00
If you would like a custom lectern panel with your logo or artwork we can make it happen! This rental option is priced $25 higher to cover a 17"x40" piece of plexiglass. After confirming your reservation with us for this option, you will need to contact RJ Platto with the Student Design Center at plattor@missouri.edu, and provide him with a PDF file of your artwork. The Student Design Center will prepare and print your artwork with adhesive backing, on a large format printer and send you an invoice for $25 directly. Once our office receives the artwork from the Student Design Center, we will adhere it to the plexiglass, assemble the lectern, and deliver it to your event. Please note that due to the nature of the materials used this option is only recommended for use at one to three events as the paper used tends to smudge easily.
Rental Cost: $60.00
If you would like to have a more durable option, we have an agreement with Columbia Printing and Sign to have these UV printed directly onto polystyrene and then covered in a clear coat. This cost is priced $75 higher to cover the cost of the UV printing, polystyrene, and clear coat. If you would like to use this option, you would need to send the artwork to us at least 30 days in advance. After that, we would send this along to Columbia Printing and Sign and then pick it up from their facility when it is ready.  After your event, we will store you lectern panel for future use and you will only be charged the $35 rental fee for each use after the custom panel is made!
Rental Cost: $110