1 Auditorium
4 Lobbies
1 Rooftop Patio
Capacity: 1182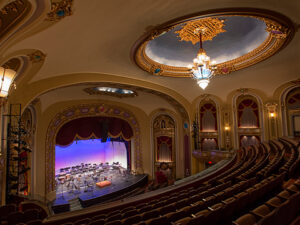 This medium-size, historical venue opened in 1928. This beautiful theatre is well suited for dinners, receptions, keynote speakers, concerts, talent shows, ballet, orchestras and more.
Mailing Address: 203 S. Ninth St., Columbia, Mo 65211
Rates for Jesse Auditorium and Missouri Theatre and Policies are subject to change July 1 of each calendar year. Final invoices are sent according to the rates and policies on the date of the event. 
Capacity
1182 Total Capacity before below kills/holds
20 MU manager comps must be made available for all ticketed shows (12 within the first 15 rows on floor), prior to announce. Released if not used by day of
12 FOH comps must be made available for all ticketed shows within the first 10 rows, prior to announce
Box Office Ticketing Services
The facility rental fee does not include event ticketing services through the Venue Box. There is an eight-week setup time for box office services. Basic box office services include setup within the ticketing system, providing ticket links to the organization for online ticket purchasing, direct box office sales (by phone or walk-up) during regular business hours, ticket handling and distribution, will call and ticket stock:
Missouri sales tax- Missouri state sales tax at the rate of 9.75% will be withheld on all sales. Sales tax must be included in the ticket price and cannot be passed directly to the consumer.
Credit card fee- A 3 percent fee on all credit card sales will be paid out of ticket revenue and cannot be passed directly to the consumer.
Ticket fees as below apply to all tickets. The facility fee applies regardless of ticketing method.
Advertised prices from University Concert Series include facility fees, service fees, and promoting.
Parking fee at Jesse Auditorium: University Parking applies a $0.50 fee per person in attendance to all ticketed events.
Contracted labor: Any service that requires outside contracted labor will be billed directly to the organization.
Merchandise fees: The venue receives 20 percent of all merchandise sales. If the organization needs the venue to provide sellers, the venue receives 35 percent of all merchandise sales.
Venue Details
Load Zone: The stage door is glass double doors 7' (2.1m) x 5'2" (1.6) in the alley on the south side of building. Stage door accesses a large hallway backstage right. Alley is 13' (4m) wide at the street and is parallel to the back of the building. Load in door is 8' (2.43m) elevated 16" (0.4m) above alley. Please note there is no loading dock.
Stage Dimensions:
Proscenium opening: 35'8" wide x 23'1" high (10.8m x 7m)

Permanent nonmoving teaser at 21'6" (6.5m)

Upstage wall to plaster (on center): 30' (9.1m)
Plaster to downstage lip (on center): 2'6" (0.8m)
Tension Grid Height: 45' (13.7m)

Grid Steel: 50'4" (15.4m)

Stage to House floor (vertical): 3'7" (1.1m)
Orchestra Pit Depth (from house floor): 16 ½" (0.4m)
Stage right wing space (approx.): 18' (5.5m)
Stage left wing space (approx.): 11' (3.3m)
Stage Floor: Stage floor is natural sprung wood painted black.
Console Information:
Lighting: ETC Ion; 192 2.4kW dimmers
Sound: 32 Channel Midas M32 Digital Mixing Console