Virginia Avenue Amphitheater
Capacity: 300
Outdoor Space near Plaza 900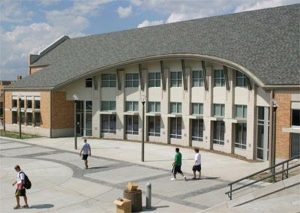 The Virginia Avenue Amphitheater is an outdoor space located near Plaza 900.  With a max capacity of 300, this outdoor space is ideal for small gatherings, celebrations, and music events.
Guidelines
Because the amphitheater is surrounded by residence halls and the Plaza 900 dining location, events held there must not adversely impact the use of these facilities.
There are no public restrooms available. Organizations will need to rent portable restrooms if the event lasts more than 1 hour and peak attendance exceeds 100 people. Students with disabilities will be permitted to use the restroom facilities inside Plaza 900 during normal hours of operation (http://dining.missouri.edu). If the event is held during a time when Plaza 900 is not open, then the organization hosting the event will need to make alternate arrangements, which may include renting an ADA portable restroom.
Your group leaders will be responsible for ensuring that the walkways remain clear throughout the event. Image below with walkways marked.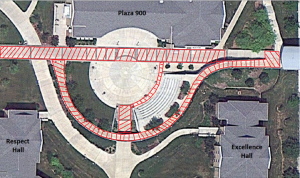 Music/Sound Amplification:

a permit must be obtained for sound amplification.  Permit application can be found here.
Specific guidelines sound amplification for Virginia Avenue Amphitheater:

If amplified sound has been approved, it will only be allowed during these times at the Virginia Avenue Amphitheater:

11am-5pm Monday-Thursday
11am-8pm Friday-Sunday

Speakers need to be pointed away from Plaza 900 Dining hall, so that it's not vibrating their wall of windows.
Sound must be kept at a reasonable level. Campus Dining Services or Residential Life staff can request that you turn it down if they feel it is too loud.

Electrical outlets can be found under the big windows or under the concrete benches across from the entrance to Plaza 900.

Additional electricity requests: Individuals/organizations hosting events in outdoor spaces should contact Facility Operations at 573-884-0982 for outdoor electrical needs.

If food is being served, you must have a food permit https://ehs.missouri.edu/ehs/food/permits
If food is cooked on site, you must obtain an open flame permit http://ehs.missouri.edu/fire/
Cleaning/Trash Pickup: You are responsible for cleaning up the area after your event, including the removal of trash and recycling. (This is especially important in regards to food waste). Please make sure that you have a plan for this clean up. To obtain trash and recycling containers, please contact the Sustainability Office at 884-9319.
Staking the Ground:  If you plan on using tents, dunking booths and bounce houses, or anything requiring staking into the ground, you are required to contact Campus Facilities-Energy Management as the grounds are full of shallow utilities such as electrical and irrigation lines. You will need a utility locate by calling Campus Facilities-Energy Management at 882-3094 and an irrigation system locate by calling Mike VanBeek at 882-9536 completed before you drive stakes into the ground for any reason. These locates need to be scheduled at least 3 working days in advance of your event setup. The lines marked on the ground by paint are only an approximation of their location. The exact position could vary by 18 inches on either side of the lines. Stakes should only be driven into the ground well away from these marks.
Change in Activities: There are activities that would not be approved because of the damage the activity causes to the grounds. If you are changing the planned activity please contact the Office of Reservations and Events to see if it might damage the grounds before you proceed.
Event Assistance
Equipment:  Event Organizers must arrange for their own equipment.  Equipment is not available through the Office of Reservations and Events, nor through Residential Life.
Solar Tables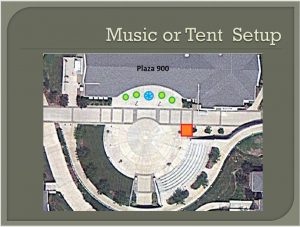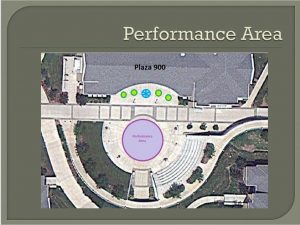 For additional questions please contact the Office of Reservations and Events